FROM THE REV'D DAVID APPLEBY
True love never dies!
This year, Lent begins on February 14th.
So while many couples are enjoying a romantic meal together, others of us will be eating up milk, eggs and flour in pancakes! The tradition of eating rich food before abstaining for Lent can be traced all the way back to the Jewish Passover, where God told the Israelites not to eat raised, or leavened, bread. 4000 or so years later we aren't quite so strict, but to go without something for a while can do us the world of good. Coming soon after the excesses of Christmas, giving our bodies a detox at Lent may not be a bad thing.
Of course, Lent isn't just about giving up things. Neither is being a Christian all about the things 'thou shalt not' do. Being a follower of Jesus should be one of the most joyful things we can experience; and Jesus never expected us to be hard on ourselves for the sake of it.
This Lent gives us the opportunity to meet God in a new way. The Sunday readings leading up to Easter Day all point to resurrection; that death is not the end. Jesus didn't bring a negative message of being dour, but a positive one of life in all its fullness as we give ourselves to him. Death – often spoken of as 'the final enemy' – has already been defeated, and for those who believe in Jesus, there is nothing to fear from death and what lies beyond it.
We were reminded at Christmas that Mary & Joseph were to call their baby
Jesus, because he would save his people from their sins. That is what we remember at Easter. But to get us there, we travel through Lent, which, beginning on Valentine's Day, reminds us of God's love. For love of us, Jesus came and gave up, not rich food, but his very self so that we could know life and love, forgiveness and joy. One of the Lent payers says: 'We give you thanks because Jesus was tempted in every way as we are, yet did not sin. By his grace, we are able to triumph over every evil, and to live no longer for ourselves alone, but for him who dies for us and rose again.'
True love is about God giving himself to us, and we living no longer for ourselves alone. True love never dies!
Rev Dave Appleby.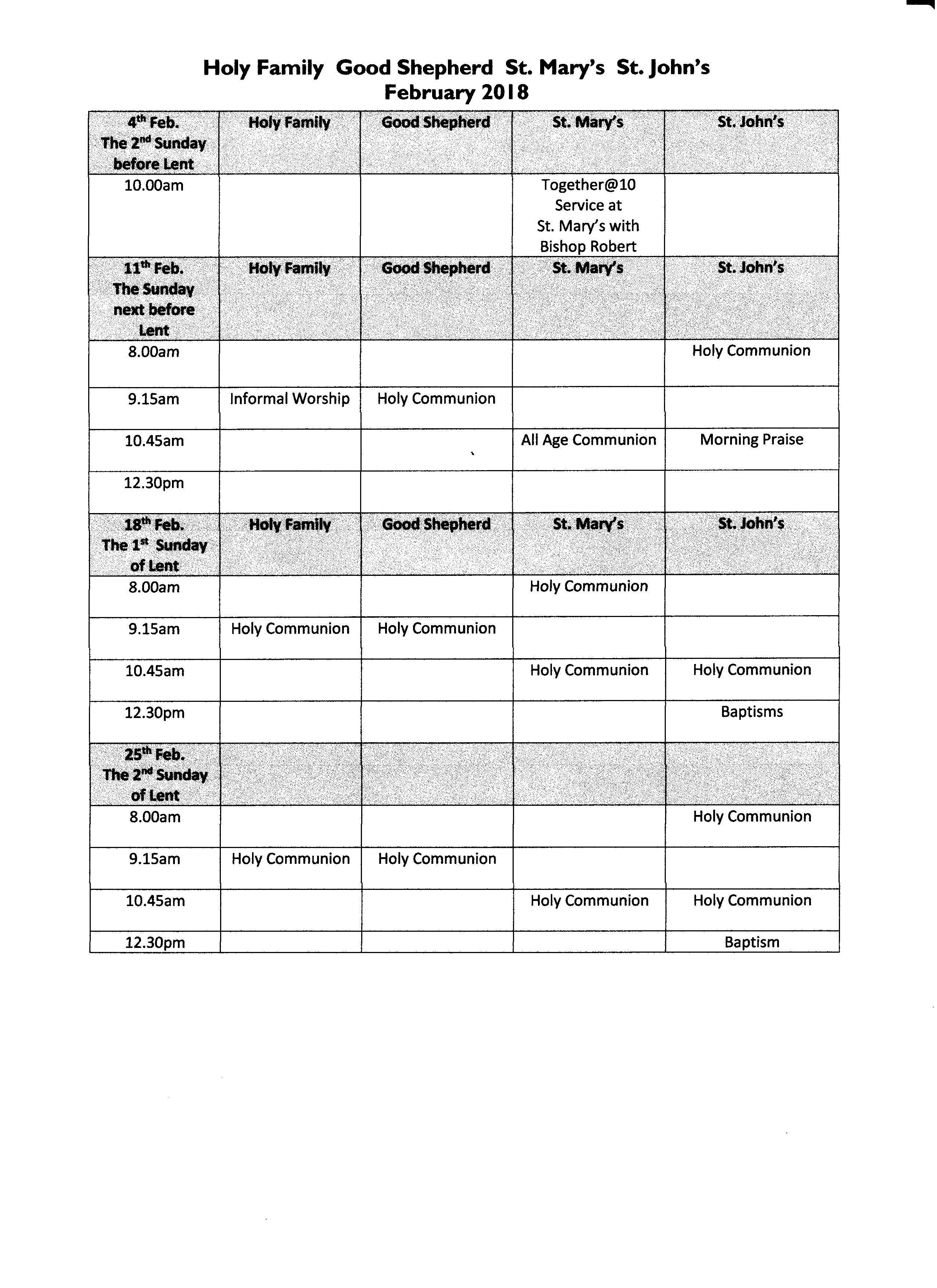 BISHOP OF EXETER TO PREACH AT EPIPHANY SERVICE AT SANDRINGHAM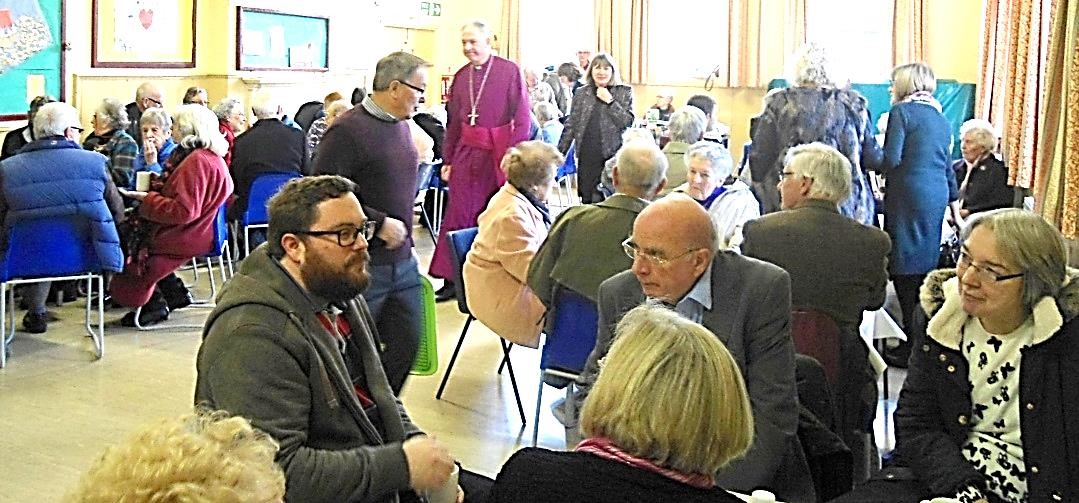 Bishop Robert was invited to Sandringham to lead the Epiphany Service, for a congregation which included the Queen and other members of the Royal family.
Bishop Robert was also invited to stay at Sandringham as a guest for the weekend.
He said: "I am delighted – and not a little intimidated – to have been asked by the Queen to stay with the Royal Family at Sandringham for the weekend in January and to preach before Her Majesty on the Sunday for the Feast of the Epiphany. This is the first time I have been invited and it is an incredible honour."
POST-CHRISTMAS LUNCHEON AT THE PLIMMIE!
Nearly 30 of us gathered at the Plymstock Inn for a post-Christmas luncheon on Wednesday, 17th January.
Very well organised by Lesley Padgham, we sat down to a long table well decorated with colourful napkins and crackers and were treated to a superbly prepared and served lunch. There was a very good choice of menu which we had pre-ordered. We had chosen from a good range of dishes. Many of us had stayed with the Christmas theme and had turkey whilst others tucked into beef or salmon. Desserts were delicious with the portions large and filling. It was all rounded off with a mince pie, coffee/tea and a chocolate mint. We sat there with our crackers pulled and our paper hats on and the conversation ebbed and flowed around the table well into the afternoon.
The staff of the newly-opened Plymstock Inn treated us superbly with courtesy, efficiency and humour. We all hope that this owner is successful because there was much talk of doing this again……….!
Thank you Lesley for having this brilliant idea and for organising and arranging it all. -Tony Banbury

Visit of Bishop Robert
Sunday, 4th February, 10.00am
Together@10 Service
St. Mary & All Saints Church
The Rt. Revd. Robert Atwell,
Bishop of Exeter.
FROM THE PARISH REGISTERS at St Mary's in December 2017:-
Funerals:
December 11th REGINALD CHARLES FIELDS.
December 21st HILDA RICHMOND.
CHRISTINGLES AT THE GOOD SHEPHERD
We held 2 Christingle Services at the Good Shepherd on Christmas Eve. The church was filled to capacity both times, 91 in the first congregation and 71 in the second.
There was a closing collection at both Services. A total of £173.58 was collected for The Children's Society.
Thank you to the Howing-Nicholls family for making the Christingles. -Lin Miller
ASH WEDNESDAY SERVICE
WEDNESDAY, 14TH FEBRUARY, 10.30AM
Church of The Good Shepherd
Eucharist
including the imposition of ashes.
Details of Lent groups
around the Mission Community will be available shortly.
THE OLDEST BIBLE COMES BACK TO THE UK
The world's oldest surviving complete Latin Bible returns to the UK this autumn. It left these shores for Rome 1302 years ago, when monks in the northeast of England sent it as a gift to Pope Gregory II.
The Codex Amiatinus was one of only three produced at the twin monasteries of Wearmouth and Jarrow. (One has since got lost, and the other survives in fragments.) It was kept safe for centuries at the Abbey of the Saviour in Monte Amiata, in Tuscany. Then in the 18th century it was sent to the Biblioteca Medicea Laurenziana, in Florence.
It is the Laurenziana which has now agreed to send it back to the UK, alongside the Lindisfarne Gospels, for its exhibition 'Anglo-Saxon Kingdoms', which begins in October.
The Bible is 12 inches thick, and weighs 35kg. It contains both Old and New Testaments, and was written on 1030 leaves made from the skins of at least 515 sheep. It has been called one of the greatest treasures of Anglo-Saxon times. (from The Parish Pump)
RED NOSES? NO LAUGHING MATTER
Thirty years ago this month, on 5th February 1988, Britain experienced its first Red Nose Day. 'Comic Relief', an American idea, had crossed the Atlantic in a uniquely British form. So suddenly red noses were everywhere. Lenny Henry and comedy script-writer Richard Curtis were its first pioneers, movingly expounding its simple basic principle: poverty, exploitation and famine are not funny, but well-known funny people could help those who were their victims.
The first Comic Relief drew an audience of 13 million and raised five million pounds. Over succeeding years, the audience has never again been quite so large, but the amounts raised for the relief of poverty world-wide have hugely increased.
Getting a big TV audience is simply the first requirement of a telethon – a marathon televised charity project. Once Comic Relief achieved that audience, some of the most effective comedians in the UK did their stuff, sometimes live and sometimes recorded. Over Comic Relief's 30 years just about every well-known comedy performer in Britain has contributed to the event. For several years a regular feature was an hilarious parody by Ian Hislop. The same comic stars also introduce films and interviews to remind viewers that this really is comedy with a purpose.
Once again, this month the red noses will appear – at school, at work, in shops and on the streets: a visible, bizarre reminder that all the world is not happy, but our laughter is that of sympathy, not ridicule.
Next year the total raised by Comic Relief should pass a hundred million pounds, and that's no laughing matter.
ALL IN THE MONTH OF FEBRUARY
It was:
80 years ago, on 24th February 1938, that the first toothbrushes with nylon bristles were introduced, by Du Pont. Until then toothbrushes had been made from the hair of boars or hogs.
70 years ago, on 28th February 1948, that the last British Army regiment left India.
65 years ago, on 5th February 1953, that sweet rationing ended in Britain.
Also 65 years ago, on 28th February 1953, that British Scientists Francis Clark and James D. Watson announced that they had discovered the double-helix structure of DNA.
60 years ago, on 6th February 1958, that the Munich air disaster took place. A plane carrying the Manchester United Football team, plus support staff and journalists, crashed while attempting to take off from a slush-covered runway at Munich-Riem Airport. 23 people were killed, including 8 players.
Also 60 years ago, on 6th February 1958, that George Harrison, aged 14, auditioned to join John Lennon's Skiffle group the Quarrymen (which later became the Beatles). The audition reportedly took place on a bus, and Lennon felt that Harrison was too young.
Also 60 years ago, on 17th February 1958, that Pope Pius XII declared Saint Claire of Assisi (1194 – 1253) to be the patron saint of television. It was on the basis that she had been too ill to attend Mass, but had reportedly been able to see it and hear it on the wall of her cell.
50 years ago, on 19th February 1968, that the Thalidomide scandal's first compensation payments were awarded in Britain to 62 children born with deformities because their mothers had taken the drug during pregnancy. (Around 400 British children in all were affected.)
40 years ago, on 15th February 1978, that New Zealand beat England in a cricket match for the first time.
30 years ago, on 5th February 1988, that Comic Relief held its first Red Nose Day in the UK. It raised £15m for charity.
15 years ago, on 1st February 2003, that the US space shuttle Columbia disintegrated over Texas during re-entry, killing all seven astronauts.
Also 15 years ago, on 17th Feb 2003, that London's Congestion Charge scheme began.
THE TEN COMMANDMENTS
This rhyming version of the Ten Commandments, published, it is thought, by Isaac Watts in 1709, was still going strong some years ago.
Thou shalt have no gods but Me.
Before no idol bow thy knee.
Take not the name of God in vain,
Nor dare the Sabbath Day profane.
Give both thy parents honour due,
Take heed that thou no murder do.
Abstain from words and deeds unclean,
Nor steal, though thou art poor and mean.
Nor make a wilful lie, nor love it,
What is thy neighbour's, do not covet.
FROM ST JOHN'S PARISH REGISTER
MEMORIAL SERVICE:
January 20th SHEILA FRANCES MARY COLEMAN
Sheila was the only child of Reginald Coleman and Alice Clarke. Her mother was from a farming family at Lamerton. She came to Hooe to teach in the National school in the present Church hall.
Sheila was born on 1st October 1927 and lived in Powderham House, Yonder Street, Hooe, which the family had owned for a great many years. Sheila went to school at Hooe but with the outbreak of the war they moved back to Lamerton to live with her mother's family. Sheila attended Tavistock School and went on to train as a teacher of Domestic Science at Bath College. After qualifying she returned to teach at Tavistock School. When the family returned to live in Hooe in Powderham House, Sheila secured the post of Domestic Science teacher at Plympton Grammar School, now called Hele School, where she remained until she retired.
When there was a threat of putting a Marina in Hooe Lake, Sheila lead the battle to keep the Two lakes of Hooe and Radford for local people and wild life. The Radford and Hooe Lake Preservation Society fought and won many battles. The next projection was to raise awareness of the state of the Elizabethan barn in Hooe. The stone on Hooe Green was erected by Sheila as a memorial to the American Marines who left from Turnchapel to fight in France on D Day as well as our own forces.
Sheila was a strong determined lady who loved to giggle. She owned a blue Triumph Dolomite car for over 30 years and would drive up to Jennicliff every day to exercise her dogs.
She died on 18th November 2017 in Derrriford Hospital and her ashes were interred in her parent's grave after the Memorial Service held on Saturday 20th January conducted by the Rev'd Jennie Appleby.
The retiring collection was for St Luke's Hospice. The congregation adjourned to the hall for a buffet and time to remember Sheila.
'YOUNG @ HEART'
The next Meeting will be on Tuesday, 6th February, 2.00-4.00pm
In St John's Hall.
Community News
Care in the Community
A lack of good quality care means some parts of the country have more than half of their Care Home beds in homes rated as requiring improvement or inadequate, according to a recent investigation by consumer champion Which?.
Which? analysis of Care Quality Commission (CQC) data shows that in six local authority areas, good quality Care home places are so limited that 50 per cent or more of local beds are in homes rated as requiring improvement or, making it less likely that people looking to move into a Care home will be able to find a good place near where they live.
Locally in Plymouth 64% of the beds were good with 31% Inadequate out of a total of 2,241.
Devon had 79% good beds out of 7,439 with 4% inadequate and Cornwall recorded 70% good beds with 3% inadequate out of 301 beds.
Councils are required to offer local-authority funded individuals at least one suitable Care home place that will meet government standards.
Plymouth Register Office
The Register Office in Plymouth will remain in Lockyer Street for the time-being and get a makeover while the search continues for a suitable new site. The Council plans to invest £190,000 in structural repairs to the building over the period of three years.
2018 Local Elections
There will be local council elections across the city on Thursday 3 May 2018 except in the Plympton Erle Ward.
Candidates and agents. A briefing will be held in March (actual date to be determined) providing information for anyone who intends to stand for election.
Poll cards
These will be sent out 27 March 2018. If you don't receive one by Friday 6 April 2018 you should email ero@plymouth.gov.uk or call 01752 304866 to check that you are registered to vote at your address. You don't need a poll card to be able to vote. The card confirms that you are registered to vote and tells you your allocated polling station. If you are a postal voter you will get a different colour postal poll card telling you when the postal ballot papers are being sent. Further information and legal notices for the election will be published in due course.
Key deadlines
Registration deadline – Tuesday 17 April 2018 (midnight)
Postal voting deadline – Wednesday 18 April 2018 (5pm)
Proxy voting deadline – Wednesday 25 April (5pm)
Pollution
Pollution in Plymstock is rated as good where there is an extremely low chance of nitrogen dioxide levels exceeding the annual legal limit. The air in the local area is generally clean.
This is the same as the average for Plymouth, which is 1 out of 6 (good).
Source: MappAir100 by EarthSense.
Hospital Parking Charges
Plymouth hospitals raised £2.3m in parking charges last year and NHS hospitals nationally made £174m.
The Liberal Democrats have branded the charges as a "tax on sickness".
A private members bill going through Parliament is calling for the abolition of hospital parking fees.
A379 Improvements
The section of Billacombe Road between Pomphlett Roundabout and The Ride in Plymstock regularly suffers from congestion, delays and unreliable journeys in both the morning and evening peaks as well as off peak periods such as weekends. This journey time variability impacts negatively upon bus services, making it difficult for bus operators to adhere to a scheduled timetable which erodes the attractiveness of the existing bus services. The population in the area is predicted to grow from 399,914 (2014) to 434,900 by 2034. A large proportion of this growth will be located within Plymouth's Eastern Corridor. The A379 provides the vital link to these new developments, so a new and innovative transport solution is needed on A379 to facilitate this growth.
Cycling/Walking Path Extended
Work on the next section of a walking and cycling link connecting Laira Rail Bridge and Plymstock will get under way on Monday 15 January. The popular route will be extended further east along the railway alignment into Broxton Drive, at the entrance to the Saltram Meadow estate. Part of the new path will run via Rock Gardens to avoid disturbing an area of environmentally sensitive habitat and a small section will be built on raised decking to protect the rare 'Horrid Ground Weaver' spider, found during extensive ecological surveys. Rock Gardens itself has also recently benefited from resurfacing and street lighting under separate plans. The walking and cycling link is being fully funded through the Heart of the South West Local Enterprise Partnership's Local Transport Board and Section 106 contributions and is expected
to open in March. The plans were approved in December and can be viewed on the Council's planning pages – the reference is 17/01978/FUL. Future plans will see the route continue further east and connect into a proposed pedestrian and cycle bridge crossing over Billacombe Road, expected to be built this year.
Local Wellbeing Hubs
A network of wellbeing hubs is to be opened across Plymouth to give residents easier access to health advice and support.
The hubs will offer information and support on a range of issues such as health and wellbeing, finance, employment and mental health, with some offering more specialist support in areas where it is most needed.
The first universal hubs will be opened by March 2018 and a second phase of hubs later including one in Plymstock.
The deadline date for items for March 2018 magazine is February 15th 2018
(Items to: mpskilton@sky.com or grahambulley@aol.com)
Our thanks to the Advertisers who sponsor the Magazine
Advertisements and service quotes do not imply recommendations on the part of the Church
Opinions expressed are not necessarily those of the editor
The Magazine is Printed & Published by St.John's DCC, Hooe, Plymouth. UK