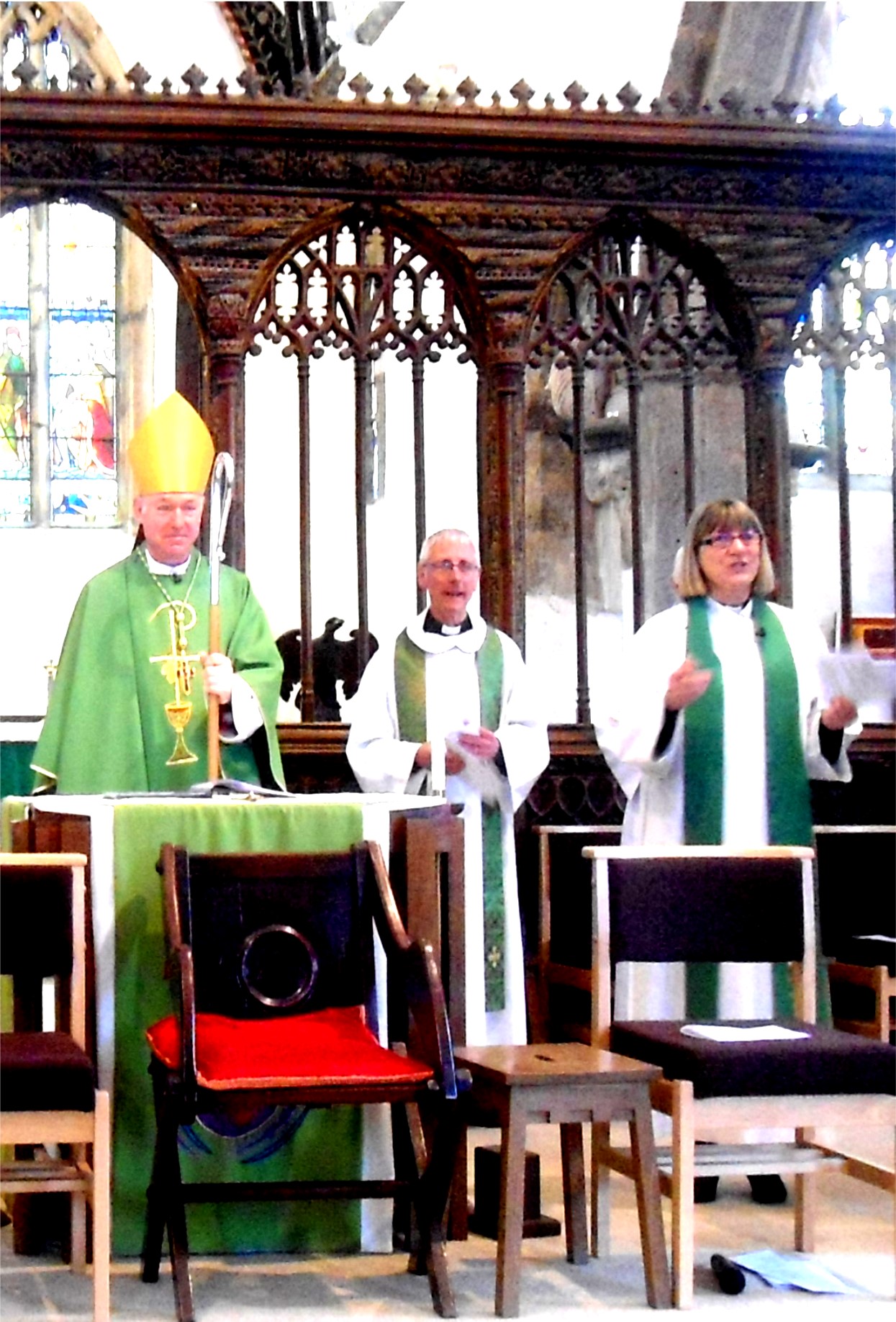 The Rt Revd Robert Atwell at St.Mary's on Sunday February 4th 2018 Photo: David Demellweek
Excerpts from the March Parish Magazine
FROM REV'D. JENNIE APPLEBY
Lent Plastic Challenge

What have plastic bottles and Lent got in common? Over 8.3 billion tonnes of plastic have been produced since the 1950s: "enough plastic to cover every inch of the UK ankle-deep more than ten times over. Just 9% was recycled." In the BBCs Blue Planet Series, David Attenborough has recently brought to everyone's attention the damage being caused by our throwaway society to life in the oceans - where so much of our waste eventually ends up.
So this Lent the Church of England has issued a challenge to raise awareness of how much we rely on single-use plastics and to look at how we can reduce that use. The Lent Plastic Challenge is a calendar for the 40 days during Lent. Every day there is a suggestion as to how to cut down on plastic use in our everyday lives, e.g. use bars of soap instead of gel soap in bottles, avoid over-packaged foods, give up disposable cups and drinks in plastic bottles.
Lent is a time when we remember the 40 days that Jesus spent in the wilderness when he was tempted and challenged. It is also a time when we Christians reflect on God's purpose for our lives and our lifestyle choices. As Christians we are called to care for God's creation and also to care for the poor in our world.
Fairtrade Fortnight (26 Feb.-11 March) is another opportunity for us to focus on where our food and other products come from and to support the farmers and workers who grow our food. With Fairtrade we have the power to change the world every day.
So, whether we choose to give up single-use plastics or support Fairtrade (or do both), we will be making a difference in the world. Surely that is what Lent is about?
May God bless you this Lent.
Jennie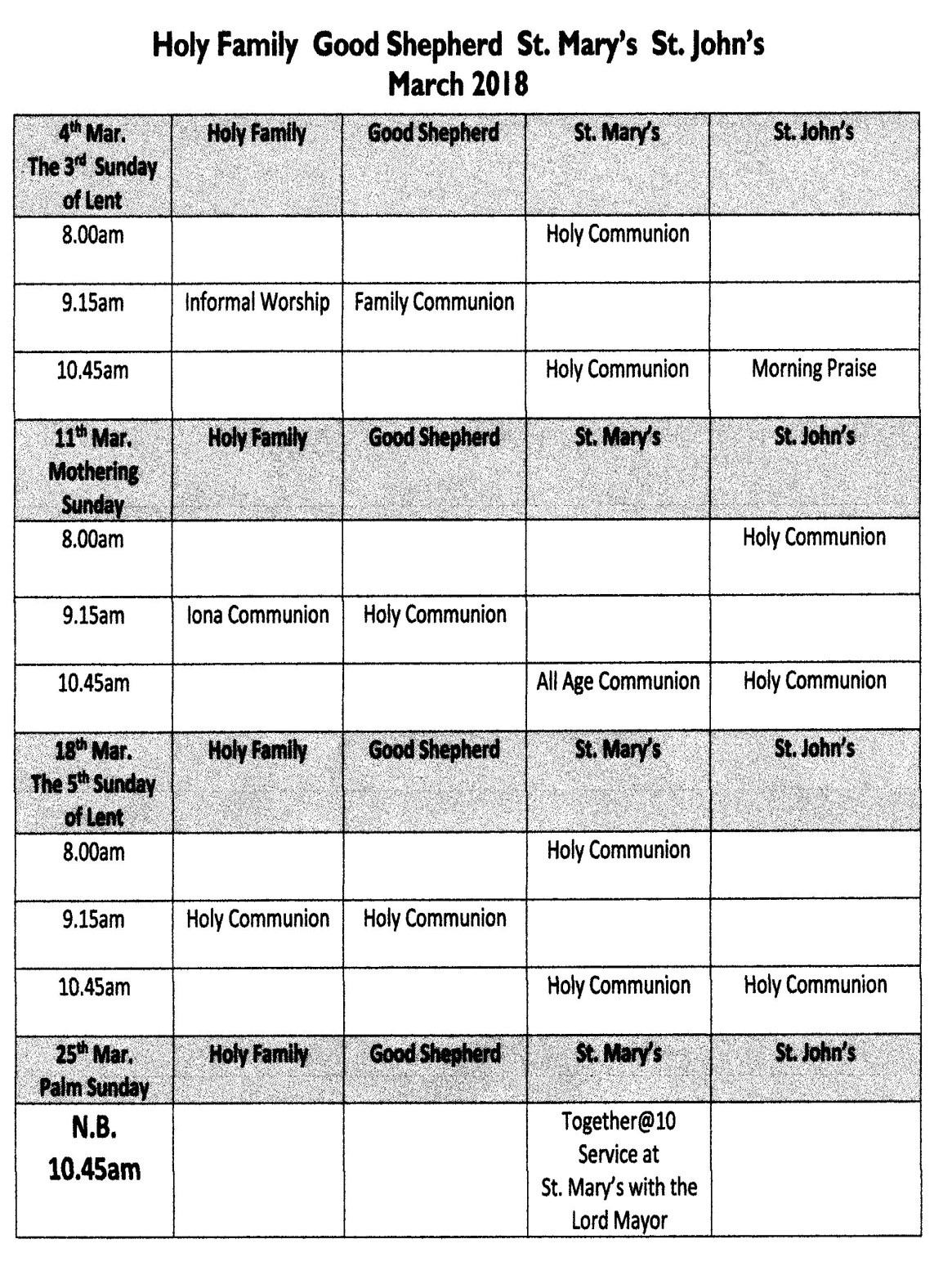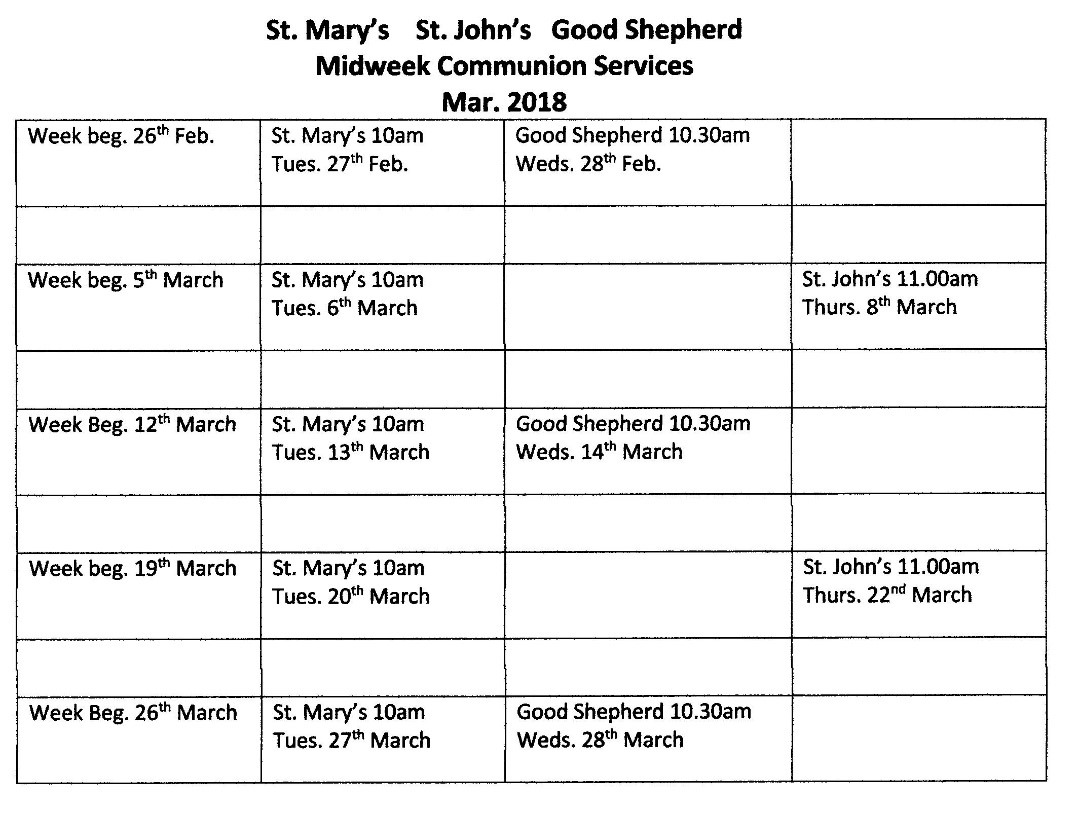 WOMEN'S WORLD DAY OF PRAYER – FRIDAY, 2nd MARCH 2018
This year our local Service is at
POMPHLETT METHODIST CHURCH AT 1.45PM.
The theme is 'All God's creation is very good' and the worship has been prepared by the Christian women of Suriname.
Do come and be part of a great wave of prayer encircling the globe; translated into over 60 languages and 1,000 dialects and to be celebrated in 170 countries and islands. Here in the British Isles, some 6,000 Services will be taking place. -Daphne Freeman
ASH WEDNESDAY SERVICE
A number of worshippers braved the heavy rain and strong winds to attend the Ash Wednesday Service which this year was held at The Church of the Good Shepherd, Oreston, on Wednesday, 14th February. The Service was led by the Rev'ds Jennie and Dave Appleby.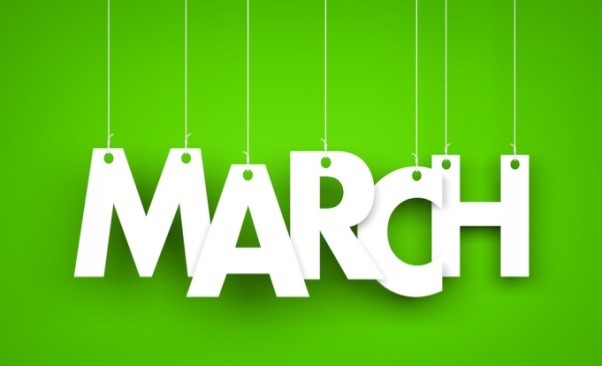 'March comes in like a lion and goes out like a lamb' goes the saying. Well, it may be the other way round this year, as things happen this month which increase our activity and move us forward as a Mission Community.
We begin with the Vision Day on Saturday 3rd in which the PCC will explore where God is leading us. We can expect a new direction in our worshipping and witnessing life as a result. Then on three Sundays in March, we will focus on the way in which Jesus came to defeat death, culminating in his resurrection on Easter Day. Resurrection is what marks Christians out from all others. Resurrection is about new life, change and growth. That is what we are already seeing in the Mission Community - the annual 'Statistics for Mission' exercise identified 14 adults joining us in 2017 - and that is what we must expect to see more of. Death, decay and 'staying the same' are not options, and all defeated by resurrection.
Resurrection is the bridge which carries us from death to life, from decay to growth, from being static to being changed.
The month of March: however we enter it, we will leave it as different people.
-Rev. Dave Appleby
'TOGETHER @ 10'
The 'Together @10' Service on Sunday, 4th February, was held at St Mary's, Plymstock, and was led by the Bishop of Exeter, the Right Revd Robert Atwell (see Cover picture).There followed a 'get together' in the Church hall with refreshments.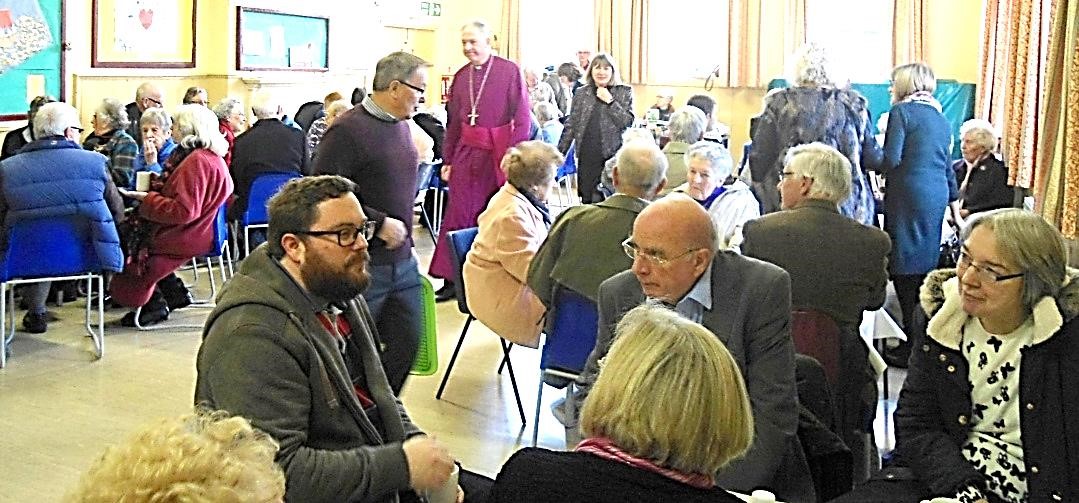 (Photo: David Demellweek)
'TOGETHER @ 10' on Sunday, 25th March (Palm Sunday) will also be at St Mary's and this is the Lord Mayor's Civic Service. Note: Start time 10.45am.
FROM THE PARISH REGISTERS at St Mary's:-
Baptisms:
28th January ISAAC HENRY ANDREW BATTEN, the son of Emma and Joe.
28th January SAMUEL ZACHARY PELL, the son of Sharon and Lester.
Funerals:
22nd January: RALPH NIGEL WHITNEY
1st February: LILIAN MAY NILES (known as Molly)
TEN YEARS ON!!! HOOE'S PLACE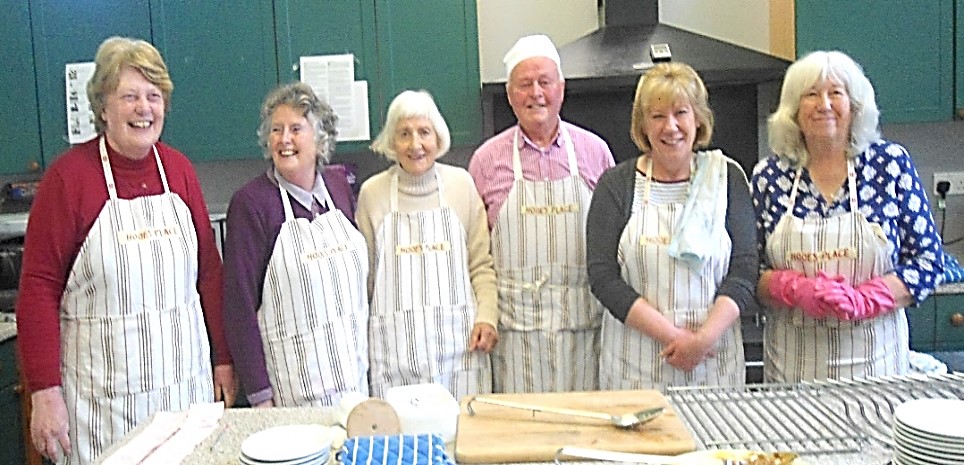 In 2007 we looked around St John's Hall and made a list of work needed to repair and update the building. When the list reached a full 2 pages we then made three lists. Must do; Need to do; Want to do.!! Main problem no money!!
We looked at the kitchen furnished with old cupboards and few worktops. One sink, small fridge and a cooker -28 years old.
We had a team of three people who were happy to cook but knew the kitchen would not pass any health inspection.
After much research and a gift of some kitchen units we applied to the National Lottery for a grant of £8000. We were successful !!
In the October 2007 work started on the kitchen, however as is always the case more money was needed.
On 7th December 2007 the clergy of Plymouth met in St John's Hall to plan a mission for Plymouth in the following year.
We agreed to supply coffee, a midday two course Lunch and afternoon tea. To our surprise the Bishop of Exeter, Michael Langish, arrived. I asked him to bless the Kitchen. He replied "Have you a ribbon? " I replied "Have you a Bible?" With a short reading from St Paul's Letters 'encouraging people to welcome strangers' and a prayer, the ribbon was cut.
The team was Terry Vincent, Chef, Margaret Rowe, Mary Skilton and Graham Bulley. In spite of a new cooker we did not know how to work and other minor problems the day was a great success.
On 8th February 2008 we opened the doors of Hooe's Place.
We thought we should serve tea, coffee, tea cakes, etc and perhaps a cooked lunch. We thought perhaps 10 people might come, the first sitting was for 17 and it was obvious that cooked lunches were required.
Every week the numbers have grown. Terry Vincent retired through ill health and Margaret White joined the team.
In 2009 Tony Kelway joined the team and took on the task of cooking and shopping. John Weaver set up and cleared the tables and chairs for six years.
Graham Bulley retired because of other work in the church and Margaret Lindsay left the area. Alec Milne retired from dish washing after many years but we have been joined by Daphne Freeman, Debbie Green with Neil Broom and Joy Chantel on the early morning shift of preparing vegetables and setting up tables. A lot of the kitchen has been renewed yet again.
The number of people coming to Hooe's Place every Thursday has grown to about 50. Some come early to chat, look at the book stall and even attend the 11am church service. At 11.45am we start serving lunches with a few arriving after 1pm.
We never thought there was such a need for friendship and cooked meals by so many.
Thank you. -Mary Skilton
FROM ST JOHN'S PARISH REGISTER
BAPTISM: We welcomed into God's family by Baptism:
January 14th SAMUEL GARETH FIELD, son of Daniel and Alexis Field of Plympton.
MEMORIAL SERVICES:
We remember those who have lost loved ones and commend to God the souls of:
MARIAN NORTH who died at Merafield Nursing Home at Plympton on 19th January 2018, aged 95 years.
Marian lived for many years in Arscott Gardens with her husband Donald who died in 2002. She was a very private lady but enjoyed coming to 'Young @ Heart' each month in the church Hall.
She was cremated at Efford Crematorium and a Memorial Service was held at St John's Church on Monday, 5th February.
PAT GARNETT, a man with a smile.
Pat was born in Leicester in 1955. He came to Plymouth to train as an artificer (skilled mechanic) at H.M.S. Fisgard. He met his future wife Hilary, their happiness was complete with the birth of Samantha and Laurence. The family loved the outdoor life especially in their caravan.
Sadly 17 years ago Pat was diagnosed with a brain tumour, a disease he fought to his death on 26th January 2018. He underwent a serious operation in June 2017 but continued to work on his home and garden with viable success.
Pat and Hilary attended St John's Church for over 20 years. Pat had a deep faith and frequently stayed after the Service to spend time in prayer.
In spite of his illness he 'always looked on the bright side of life', a song chosen by the family as his exit music. Efford Crematorium was packed to capacity with people standing in the open doorway. About half of the congregation returned to St John's Church Hall for the wake.
The leaving collection was shared between the Mustard Tree at Derriford Hospital and the charity in Bethlehem run by Laurence and Sharon Garnett.
Hilary, Samantha, Laurence and the rest of the family would like to thank everyone for their prayers, love and support over the last 17 years but especially over the last 9 months when Pat's tumour came back but had mutated and turned aggressive. Your support in all your different ways really helped us all. Thank you.
'YOUNG @ HEART'
At February's meeting 'Young @ Heart' members were entertained by 'Tribute' singer Lee Sinclair.
From the very first notes that Lee sang and played we knew we were in for a very entertaining half hour.
Most of Lee's songs were very well known to our particular age group and members joined in by either singing or humming along to the music. Songs were varied and included hits such as Cliff Richard's 'Mary Lou' ~ 'A Portrait of my Love', 'The Rhinestone Cowboy', 'The Lady is a Tramp' – Frank Sinatra's 'New York, New York' and several more. We showed our appreciation with a good round of applause and a donation.
Lee had his brother with him and they both stayed for tea and cake (he had certainly earned his 'cuppa').
After tea we had our Draw and it was our turn to sing with our hymn; everyone was wished a safe journey home.
At our next meeting we will have another creative time with our friend Joy who will help us make Easter cards. Please feel free to bring a friend, all will be very welcome. -Ruth Earl
Our next Meeting will be on Tuesday, 6th March, 2.00-4.00pm
In St John's Hall.
FROM TIM PROVOST (second from right in picture) former Church Warden at St John's.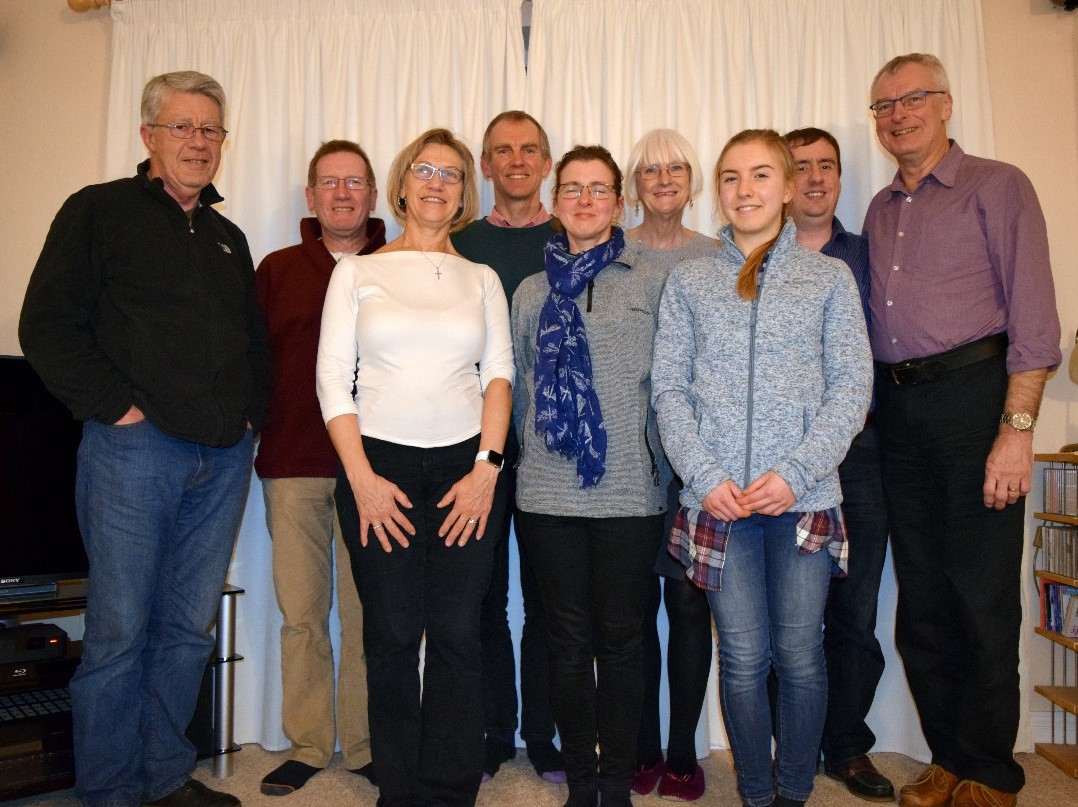 Between 12th and 24th February I will be off to Nepal with some of my fellow trustees (see picture below) and other supporters of SAHODAR UK (SUK). We will be visiting the charity we set up to support: SAHODAR Nepal (SN). You may remember that SN provides community development work in a small village, Garambesi, in the foot hills of the Himalaya. Their biggest project is a Cottage Hospital, providing much needed health care in an isolated part of one of the poorest countries on earth. The purpose of the trip is partly to see how they are getting on and to discuss how we can continue to help them; but it is also just to be there. The fact that we would journey such a distance to visit their village is an immense encouragement to them.
AS IT WAS……….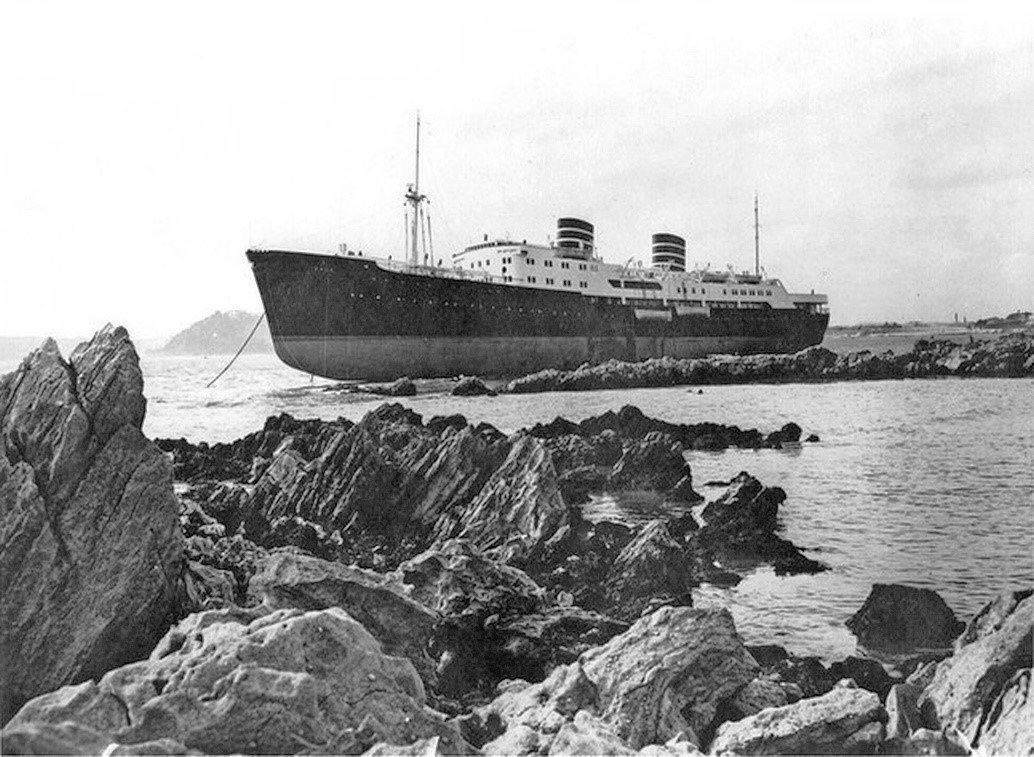 On 23rd March 1955, there was some excitement in Hooe and Turnchapel as villagers heard the news of a large ship having run aground at Mount Batten. Myself and many others climbed the hill to look down upon a ship settled on the beach. The previous day, the Norwegian cruise liner Venus had arrived in Plymouth Sound from Madeira and Tenerife. She disembarked her passengers and then anchored inside the Breakwater to take on stores. During the night the wind veered to the south-west and increased to gale force resulting in the Venus dragging her anchors and being blown ashore. Several attempts were made to re-float on the high tides over several days and she was towed off on the morning of 26th March. After temporary repairs in Millbay Docks the Venus was able to sail to Holland for major repairs and she continued cruising until 1968.
The Venus was built in 1931 with a gross tonnage of 5407, a length of 398 ft and a beam of 54ft. A short British Pathé news item of the incident can be found at:- https://www.youtube.com/watch?v=z_7LpOd3qtA
-Jan Fletcher
Our thanks to Jan Fletcher and the Plym Valley Heritage Association for allowing us to reprint this article which has appeared in their Spring Magazine.
Community News
Living Wage
The lowest paid workers employed by Plymouth City Council will again receive an increase in wages this year.
The current £8.45 per hour will be increased to £8.75 per hour from the 1st April.
This decision will cost the Council around £35,000
Pavement & Bus Lane Closed
The southern footway on the viaduct and the bus lane – which has two bus stops – will be out of action for over twelve months while the former Bretonside bus station is redeveloped.
A temporary setting down only stop on the south side of Royal Parade between St Andrew's Cross and the A1 stop will be used by Citybus 5/5A services from Plymstock and Stagecoach 2/2A, 3 and 48 services from Plymstock and the GOLD and X38 in future. This will be a setting down only stop for Citybus and Stagecoach services which would otherwise carry on down to stops A6 and A7 i.e. beyond Armada Way. The bus stop flag will be marked 'Setting Down Only' so both drivers and customers are aware.
Bus Services Revised
Stagecoach has been running a revised 2/2A timetable since 18 February 2018.
Customer feedback strongly favoured reintroducing the link between Mount Batten, the city centre, railway station and Saltash. Therefore, the 2B has been combined back into the main timetable to provide a through service.
Buses will run every 10 minutes between Saltash and Plymstock, and every 20 minutes to Elburton and Hooe / Mount Batten.
The new timetable is available on the Stagecoach website.
Winter Works Programme
Paths have been cleared in Radford Park as part of seasonal TLC under the Council's Winter Works programme.
A team has been in the park cutting back overhanging paths, clearing dangerous branches that have come lose and making good paths edges which have become muddy.
​The Winter Works programme was launched last autumn to give residents more of a say about improvements to the environment where they live.
Each ward is getting a week of action to tackle work put forward by councillors after they have taken into account the views of their residents. The initiative concentrates on activities that do not form part of scheduled grounds maintenance works. This could include path edging, hot-power washing, painting, stream clearance, additional cutbacks of vegetation and additional weeding
Three members of staff have been committed to carry out work in each of the wards for a week over the winter months.
The Council Leader encourages all councillors to work with their residents to tackle their gripes to improve all neighbourhoods but to strengthen the ties and builds up better working relationships between councillors and residents."
Need to Refresh Your Signature
Are you are a postal voter in Plymouth who need to 'refresh' their signature?
If the signature held on record for you is more than five years old you should have received a letter in January, with a form to sign and return in a pre-paid envelope.
Eighty-six per cent of those who needed to refresh their signatures have returned their forms but there are still some outstanding.
Council Chief Executive Tracey Lee said: "To count a postal vote we have to check the signature on the postal voting statement against the one we hold on file. Signatures can change over time or due to health reasons so they need to be refreshed every five years, by law.
"It's really important that the signature we hold is an accurate representation so if you've received a letter please sign and return your form as soon as possible to ensure you can continue to vote by post."
Letters were only sent to around a fifth of postal voters – if you didn't receive one you don't need to refresh your signature this year.
GP Surgeries Surveyed 2017
The GP Patient Survey is an independent survey run by Ipsos MORI on behalf of NHS England.
For further details visit the HNS Choices website.
Local and National averages in brackets
Dean Cross Surgery
What this practice does best 88% of respondents usually get to see or speak to their preferred GP. (67%), (56%)
96% of respondents say the last GP they saw or spoke to was good at treating them with care and concern. (90%), (86%)
96% of respondents say the last GP they saw or spoke to was good at explaining tests and treatments. (90%), (86%)
What this practice could improve
84% of respondents say the last nurse they saw or spoke to was good at involving them in decisions about their care. (89%), (85%)
66% of respondents usually wait 15 minutes or less after their appointment time to be seen. (70%), (64%)
79% of respondents describe their experience of making an appointment as good. (82%), (73%)
Church View Surgery
What this practice does best
80% of respondents usually wait 15 minutes or less after their appointment time to be seen. (70%), (64%)
93% of respondents were able to get an appointment to see or speak to someone the last time they tried
97% of respondents say the last nurse they saw or spoke to was good at treating them with care and concern
What this practice could improve
59% of respondents would recommend this surgery to someone new to the area
63% of respondents are satisfied with the surgery`s opening hours
75% of respondents say the last GP they saw or spoke to was good at treating them with care and concern
Barton Surgery
What this practice does best
98% of respondents had confidence and trust in the last GP they saw or spoke to. (97%), (95%)
97% of respondents had confidence and trust in the last nurse they saw or spoke to. (99%),(97%)
92% of respondents say the last nurse they saw or spoke to was good at listening to them. (94%), (91%)
What this practice could improve
48% of respondents find it easy to get through to this surgery by phone. (82%), (71%)
63% of respondents describe their experience of making an appointment as good. (82%), (73%)
76% of respondents say the last appointment they got was convenient. (88%), (81%)
Note: The deadline date for items for April 2018 Magazine is Mar 15th 2018
All copy to the Editor: Mary Skilton. mpskilton@sky.com
Our thanks to the Advertisers who sponsor this Magazine.
Advertisements and service quotes do not imply recommendations on the part of the Church.
Opinions expressed are not necessarily those of the Editor.
Printed & published by St John's DCC, Hooe, Plymouth UK. © Plymstock & Hooe PCC 2018.